In the Altyn-Emel National Park there are large water reservoirs, Kapchagai and the Ili river flowing into it.
The river network of the park belongs to the Ili river basin. All watercourses originate in the southern spurs of the Dzhungarian Alatau, forming a rather dense network at the foot of the mountains and foothills in the form of springs, small rivers and streams, most of which are only temporary watercourses.
All rivers (Tul-Kuli, Uzynbulak, Taldysai, Kurumatai, Itmuryn, Zhamansai, Altyn-Emel, Dolanaly, Kaindy, etc.) are short and shallow. They are nourished by spring snowmelt, rains and groundwater, the outputs of the latter are quite significant. In the summer they mostly dry up. River valleys are often meandering with a significant slope (700-900 m), and poor above-floodplain terraces and floodplains. There are many temporary streams, which are characterized by a steep drop from source to mouth (700-900 m), well-developed channels within the mountains, a strong spring flood, and no runoff for most of the year. The streams are fed by spring waters.
In the Mynbulak oasis ("Thousand Springs" in Kazakh), located in the central part of the park at absolute heights of 650-730 m, numerous springs pinch out for 8-10 km, giving rise to many streams, some of which reach the Ili river during the flood period. The largest stream Mynbulak has a length of 10 km.
The Ili river is the largest in the historical area of Jetysu, or Semyrechye ("the area of seven rivers"), and the Kapchagai reservoir is the largest in the Almaty region. A part of the Ili river floodplain and a part of the Kapchagai coast form the southern border of the Altyn-Emel National Park.
The floodplain of the Ili river with thickets of reeds and Asiatic poplar contrasts sharply with the Altyn-Emel desert, giving life to animals and birds >>>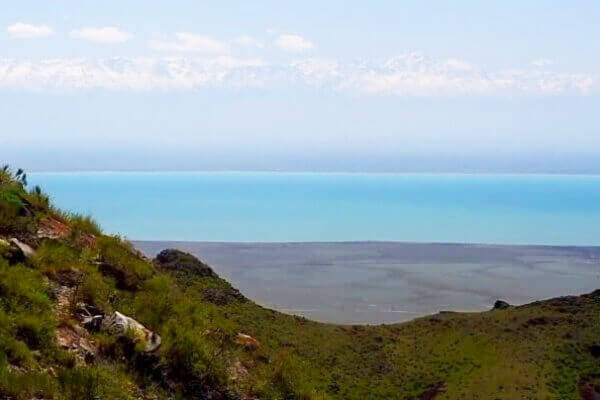 The Kapchagai reservoir, made to regulate the flow of the Ili river, is a popular place for beach holidays and fishing in the Almaty region >>>