Distance of the tourist route: 72 km one way (Basshi village - Aktau mountains, the route is marked in red on the map).
Basshi village → 28 km → Kosbastau post → 10 km → Zhagalbaily post → 34 km – Aktau mountains → 25 km → Katutau mountains → 47 km → Basshi village.
Aktau Mountains: Ancient Ocean Bottom
The farthest tourist route in the Altyn-Emel National Park is the road to the Aktau mountains.
The Aktau mountain range was the bottom of a huge ancient lake (according to one version, of the ancient Tethys ocean), which once filled the Ili depression.
Sedimentary rocks of various colors have formed beautiful gorges and canyons here over time. Against the background of the endless desert, the multi-colored Aktau mountains look like a picturesque scenery for a fantastic film, with their alien landscape.
Not far from Aktau there are other desert mountains, Katutau. They amaze with the bizarre shapes of the lava frozen after powerful volcanic eruptions here.
On the way to Aktau and Katutau, you can stop by the Kosbastau post. In this green oasis in the midst of the desert, there grow relict trees of turanga and huge several hundred years old willows.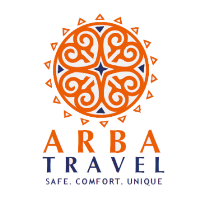 Arba Travel offers tours from Almaty and transfer from the village of Basshi along Tourist Route 3 (Aktau Mountains).