Enisei (Yenisei) is a Russian brand of teardrop trailer, designed for 2 adults and 1 child. It can be transported by a crossover or SUV.
The doors of the cabin and the outdoor kitchen countertop are higher than in the Svoboda caravan, so it is more suitable for tall men. Another difference is a built-in gas stove with 2 burners in the outdoor kitchen (Svoboda has only a portable gas stove).
Mobile and Compact Caravan
The Enisei teardrop trailer's high suspension, small dimensions and light weight ensure its mobility and maneuverability even on unpaved roads.
You do not need to apply for an additional driver's category, category B is enough. You only need a ball tow hitch on a car, a standard socket with 7 pins, and a little more attention when driving a car. The caravan is almost not felt when driving.
comfortable mattresses
two side doors with opening windows
thick curtains
mosquito nets
forced ventilation system
warm interior thanks to autonomous heating on diesel fuel with temperature maintenance
spacious lockers for storing things and bedding
comfortable interior and exterior lighting
220 V inverter
solar battery
outdoor kitchenette
sink with a tap and water supply
built-in gas stove with 2 burners
containers for food
kitchen utensils
Protected from wind and weather, animals and insects, the heated Enisei trailer provides a warm and dry atmosphere even on frosty days, and excellent ventilation makes it possible to spend the night inside even in hot weather.
The Caravansarai campsite, located in the village of Basshi in the Altyn-Emel National Park, features a variety of caravans and campers for accommodation.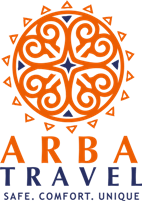 Arba Travel is the only company in the Almaty region that rents out equipped campers and caravans.