Mitsubishi Fuso Rosa 4WD is a Japanese 18-passenger tour bus (also has 5 extra folding seats). It is used for sightseeing trips and transfers from the village of Basshi to the Altyn-Emel National Park.
The all-wheel drive and high suspension guarantees a safe drive on the dirt roads of the national park, and the reduction gear in the transmission helps driving uphill and downhill on mountain roads.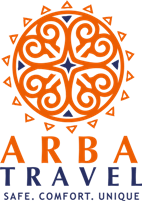 Arba Travel provides tourist transfer services by Mitsubishi Fuso Rosa 4WD bus in the Altyn-Emel National Park.