"Let's begin with a simple question: What is a Pinzgauer? The straight answer would be that it's a rare Austrian military truck, named after a local horse breed. A much better response, however, would be this: it's the vehicle you would want to have in your garage when the zombie apocalypse hits – an unstoppable off-roader that can get you through rivers, mountains, deserts and, presumably, hungry hordes of the living dead". This is how an interview with Dr. Egon Rudolph, one of its inventors, also known as 'Mister Pinzgauer', begins.
Read the full article: https://www.projectecarus.com/blog/meeting-mr-pinzgauer
© Project ECARUS™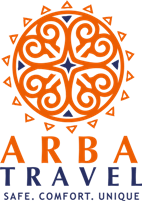 Arba Travel provides tourist transfer services by Steyr-Puch Pinzgauer 6x6 Off-Roader in the Altyn-Emel National Park.