The legendary Steyr-Puch Pinzgauer is an Austrian military off-road vehicle with a fascinating story behind. You will hardly see it on Kazakhstan roads - Pinzgauer has become a unique rarity, but it still surprises with its simplicity, functionality and powerful all-terrain qualities.
Learn more about this iconic car from an interview with one of its inventors, Dr. Egon Rudolph:
https://www.projectecarus.com/blog/meeting-mr-pinzgauer
© Project ECARUS™
Veteran Car and Maintenance-Friendly All-Terrain Vehicle
Take a ride on a rare military off-road vehicle that has been tested in the Andes, Sahara and beyond the Arctic Circle.
The Pinzgauer 4WD is a time-tested military all-terrain vehicle that excels in off-roading thanks to the ingenious simplicity of its original design.
The Pinzgauer can seat up to 4 passengers (3 seats in the cabin + 1 seat next to the driver) and provides a good view.
The soft seats transform into a bed for 2 people. The camper can also serve as a base for camping.
We use Pinzgauer for sightseeing trips and transfers from the village of Basshi to the Altyn-Emel National Park. The car is not equipped with air conditioning, so we do not recommend to use it in the hot summer season.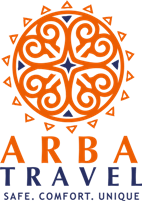 Arba Travel provides tourist transfer services by Steyr-Puch Pinzgauer 4x4 Off-Roader in the Altyn-Emel National Park.