The legendary Steyr-Puch Pinzgauer is an Austrian military off-road vehicle with a fascinating story behind. You will hardly see it on Kazakhstan roads - Pinzgauer has become a unique rarity, but it still surprises with its simplicity, functionality and powerful all-terrain qualities.
Learn more about this iconic car from an interview with one of its inventors, Dr. Egon Rudolph:
https://www.projectecarus.com/blog/meeting-mr-pinzgauer
© Project ECARUS™
Take a ride on a rare military off-road vehicle that has been tested in the Andes, Sahara and beyond the Arctic Circle.
The Pinzgauer can seat up to 4 passengers (3 seats in the cabin + 1 seat next to the driver) and provides a good view. We use it for sightseeing trips and transfers from the village of Basshi to the Altyn-Emel National Park.
Maintenance-Friendly All-Terrain Vehicle
The Pinzgauer 4WD is a time-tested military all-terrain vehicle that excels in off-roading thanks to the ingenious simplicity of its original design.
The soft seats transform into a bed for 2 people. The camper can also serve as a base for camping.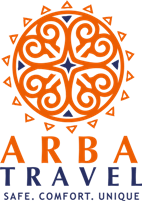 Arba Travel provides tourist transfer services by Steyr-Puch Pinzgauer 4x4 Off-Roader in the Altyn-Emel National Park.