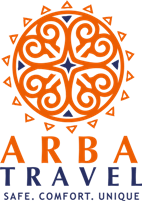 Arba Travel offers guided caravanning tours in the Altyn-Emel National Park in equipped campers.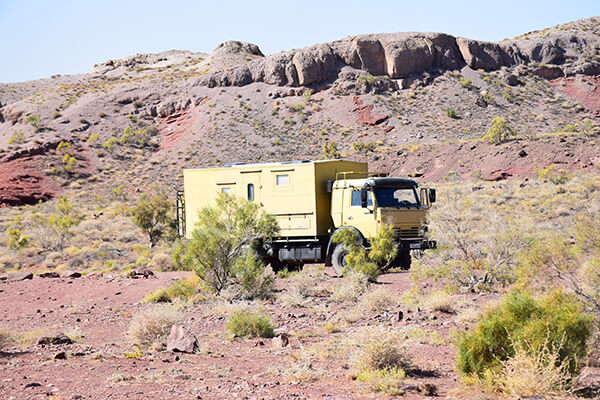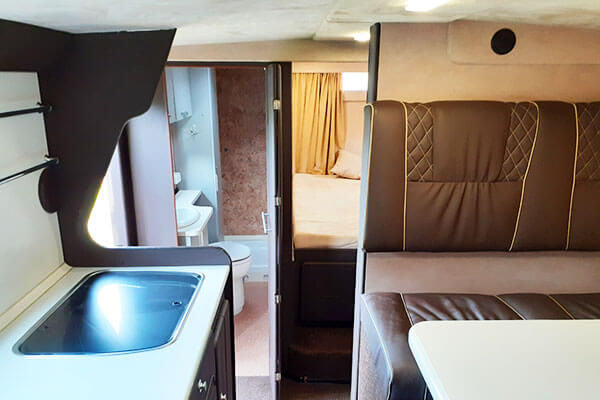 We have combined sightseeing tours in Altyn-Emel with overnight stay in a beautiful natural place.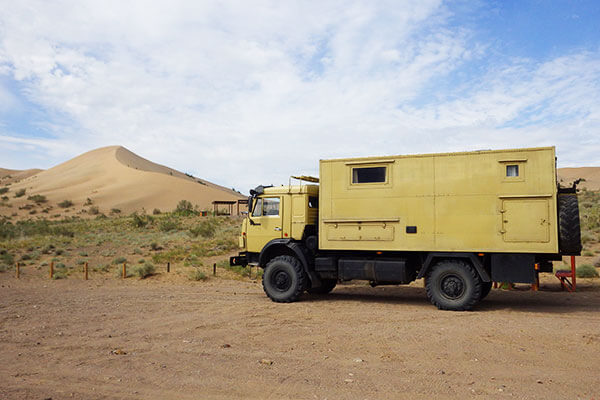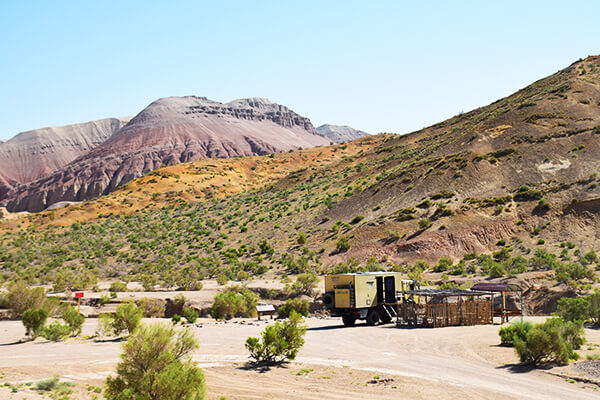 A trip to Altyn-Emel is a good way to try caravanning in Kazakhstan. The national park is famous for its vast wild steppes, privacy and safety.
Guided caravanning in Altyn-Emel gives you the opportunity to ride through the park and enjoy its sights without returning back to the hotel which is miles away, for an overnight stay. Our camper provides necessary comfort and safety at any time of the day, and a built-in kitchenette will help you to make breakfast, lunch and dinner.
The Aktau mountains are located 72 km from the village of Basshi and are devoid of water sources, so tourists mainly come here only during the day. But it is certainly worth staying here overnight to see this magnificent mountain range at sunset and sunrise, enjoy the panorama of the multicolored mountains in different lighting conditions and make a beautiful photo session.
Experience caravanning in Altyn-Emel - take a break from people and city bustle. See the beauty of dusk and dawn, the starry sky, the harmony of wildlife. Enjoy the silence and merge with nature.
5 Reasons Why You Should Go Caravanning
Caravanning becomes popular in Kazakhstan, and there are several reasons for this.
1. Nomadic Spirit
The idea of ​​caravanning is close in spirit to the nomadic way of life of the ancient inhabitants of the Kazakh steppes. The Altyn-Emel National Park has all the conditions to feel like a real nomad. The wide variety of beautiful landscapes, the unspoilt nature and the lack of mass tourism make Altyn-Emel one of the best places to visit and a very campervan-friendly place.
2. Green Tourism
Of the various types of tourism, caravanning can be considered eco-friendly. Ecotourism is not just a trend. People are striving to get closer to nature, and green tourism is gaining momentum. When caravanning, travelers get maximum comfort in the wild natural conditions of the extensive national park, leaving no traces at their place of stay. There is an opportunity to take a good break from civilization, while being in a safe and comfortable home that follows you everywhere you go.
3. All-Season Travel
Weather conditions are no more a problem. Our campers protect tourists from wind and weather. Caravanning in Altyn-Emel is available at any time of the year.
4. Comfortable Camping
Caravanning is a good alternative to camping, saving you time and money to buy and collect camping equipment.
5. Freedom
It is all about freedom. Caravanning allows you to spend more time in the Altyn-Emel National Park than on a regular day tour - with more freedom and ease.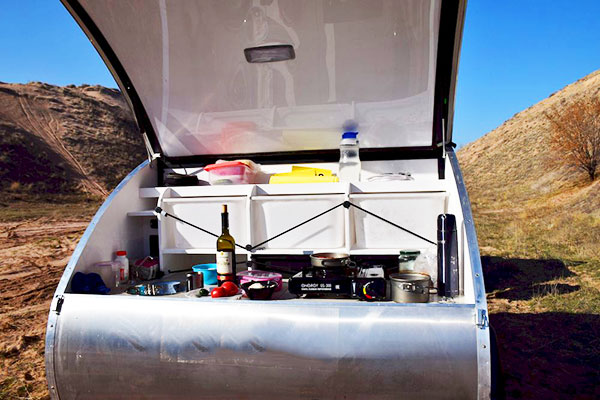 Free to Stay
You go to any place and are not attached to populated areas and crowds of tourists, do not depend on sources of water, heat and electricity.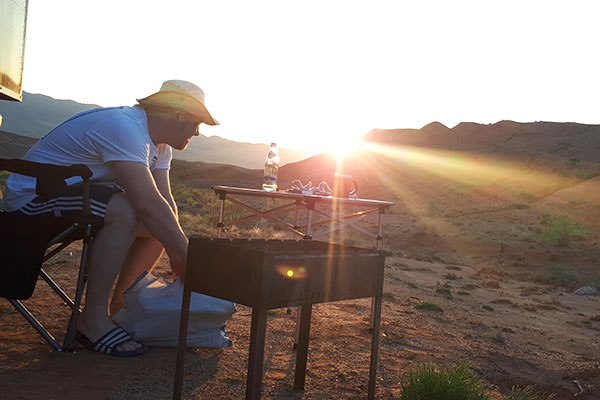 Free to Rest
You plan your time on your own. You get up, take food, explore the surroundings when you want but not according to the hours and the strict program of a tour.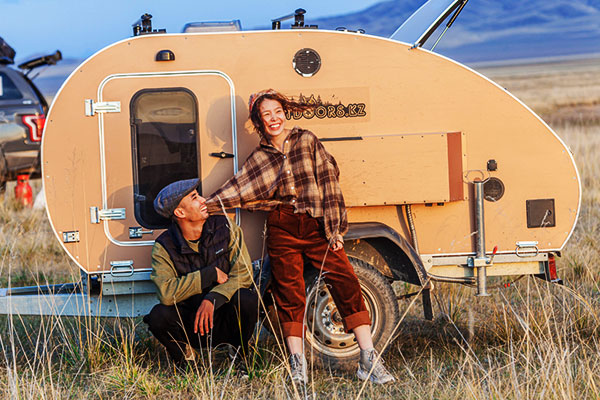 Free to Communicate
You go outdoors with your company, which undoubtedly makes your vacation more relaxed and positive and improves your relationships.
For guided tours in Altyn-Emel, we use a comfortable motorhome KAMAZ Mustang 4x4 with excellent cross-country ability on the dirt roads of the national park.
The mobile home is fully equipped for living in nature. Available for rent only with our driver.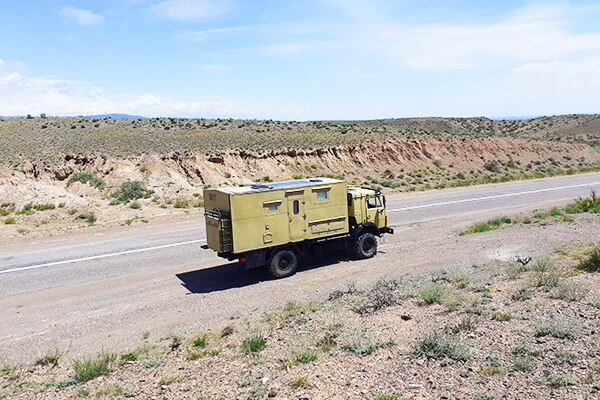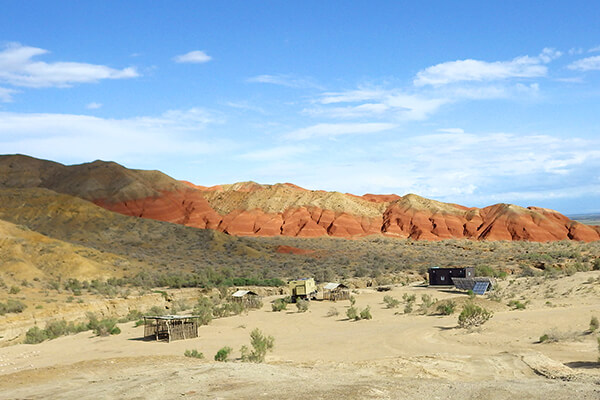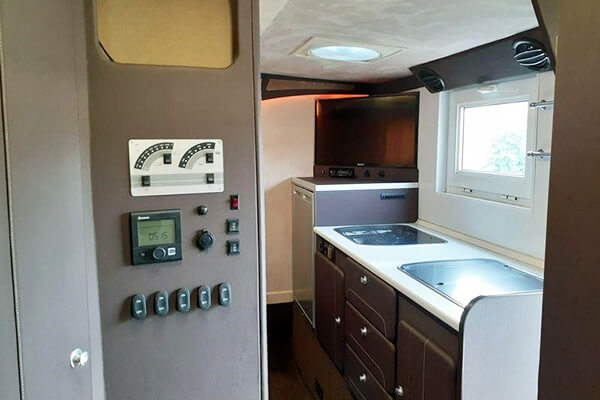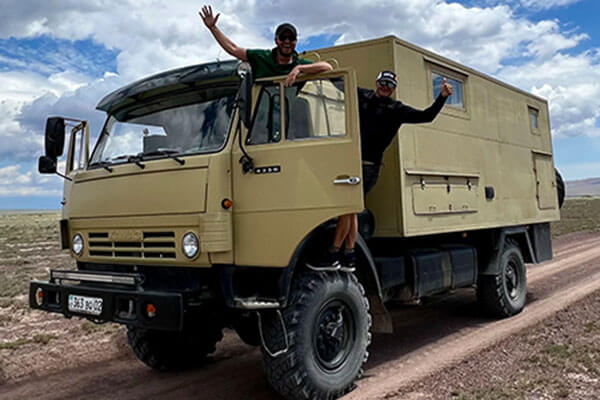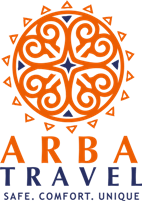 Arba Travel is the only company in the region that organizes tours in equipped motorhomes with an experienced driver.